Group Rides
Throughout the year, Comox Valley Cycle Club members participate in various group rides, and we encourage everyone, regardless of age or ability, to join the group.
Our experienced club members and coaches provide helpful tips and tactics to improve your bike handling skills and get the most from your training rides, whatever your goal may be.
Riding with a group boosts the confidence of less experienced riders and is invaluable in helping prepare for participating in an organized road race, fondo, gravel event or cross race in the future.
To find out about upcoming rides please check out the Facebook page for dates and ride details. Scheduled group and training rides take place during the week; Monday and Wednesday
Mission: What We Do
The CVCC offers the adult cycling enthusiast a setting to ride local, ride together, explore and improve.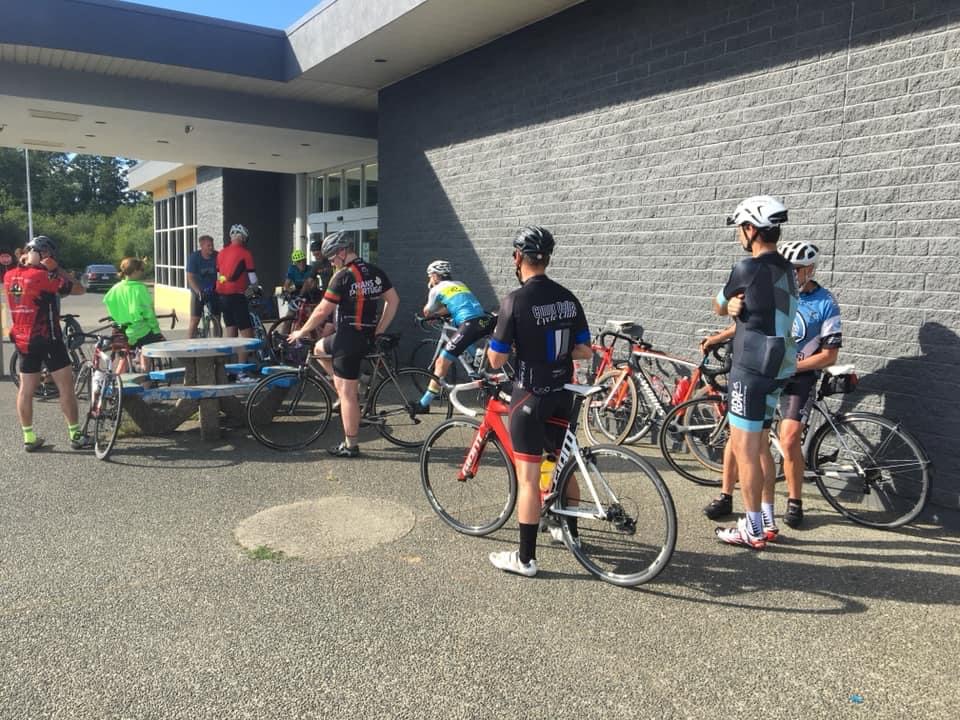 Want to Join the CVCC?
You'll enjoy riding in the group, learning group riding skills when you begin with;
a base level of fitness and bike experience.

ability to ride an average moving speed of  20 km/hour over rolling terrain for 30 km. 

ability to ride in a straight line, able to signal right or left turns, point out road obstacles

clipless pedals are not mandatory, they will help your average moving speed!
Scheduled Rides During the Week
Check the Comox Valley Cycling page on Facebook for the latest ride information.
Monday Youth Training
Coached training rides for youth (13-18yrs.). Contact Gavin MacPhail for more information.
Wednesday TT Races
3 Courses, 3 dates in June. Check back soon for more details and to register.
Training
Find a buddy to ride with on your scheduled repeat sessions; contact club members to join you on hill repeats, sprint training, long rides, gravel rides.
Want to Join The Club?
The CVCC is a non-profit cycling club located in the Comox Valley community on the east coast of Vancouver Island. Our focus is to encourage participation in the sport of Road, Cross and Gravel Cycling through group rides, road races, time trials, cross and gravel events throughout the year, with an emphasis on youth/junior rider support and development.
Members are cycling enthusiasts of all ages; youth riders (13-18 yo), adult riders 19+
Registered Society Since 1986
Registration #S-21597